What is the...

Astro-Chakra Synergy System

®?
The 'ACSS' - channeled in 2001, is a unique and highly advanced, yet simple method of combining the
planets with the chakras for enhanced positive focus, increased self-awareness
and self-development, leading to a state of balance within the mind, body and spirit.
This system is a world first and the only system known to date, which brings the
planets and chakras together in this way with such clarity, simplicity, and accuracy.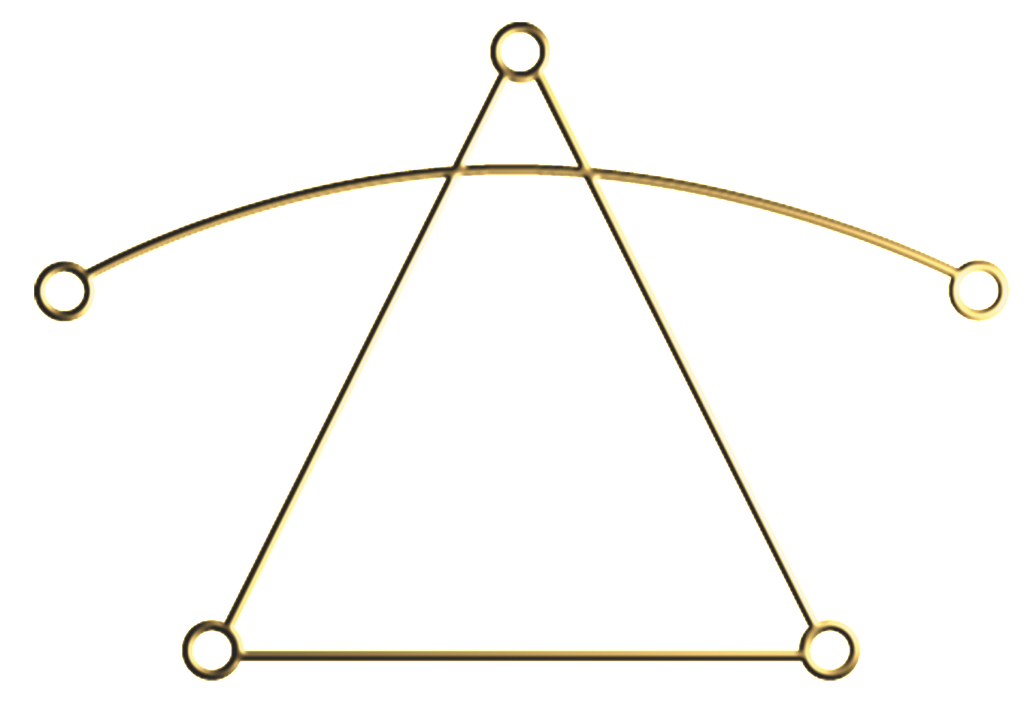 ---
There are 70 Planetary Chakra cards each of the 10 planets at 7 chakras

7 Large Cards; Chakra Cards

70 Smaller Cards; Planetary Cards

*See an example below -
Mercury at the 4th chakra - this is a Planetary Chakra Card (smaller card)

Mercury 4 / 4th Chakra – Green / Love, Relationships
Self Acceptance
To bring positive changes into your life you must start with you, accepting yourself
both internally and externally. Accept your fears, your sorrow, your happiness,
(your extra inches) and your experiences. They have all contributed in some form
to making the "you" that stands in the mirror looking back at you. Send your warm
blessings to those closest to your heart as they have shown you quiet strength
and dedication. Affirm now, "I am beautiful and perfect just the way I am" and
do this three times a day for a week with strong intent and love. This affirmation
will help to build your self-acceptance and infuse your heart with love.
ACTION:
Affirm: "I always speak from my heart." "I am beautiful and perfect just the way I am."
---
The way this system works is simple, it easily opens up pathways to the planets
through each chakra.
As you can see from the examples of interpretations for the cards below,
it is very easy to understand as well.

Each planet is connected with in a simple & effective accessible way without the
need for years of dedicated study and mental effort usually required to learn astrology.
In fact, with this simple system, no astrological knowledge is needed at all!
The ACSS system offers an original, exciting and innovative approach to the planets
and chakras, applying them to enhance self-awareness and healing. It is of use for
all those on the journey towards self-realization.
The planets become powerful healing tools focusing their energy into each chakra.
---
*Included in the 'Astro-Chakra Synergy System'®;
Guidebook

(with layouts, worksheets and full interpretations)
7 Chakra cards

(keywords when balanced / unbalanced)
70 Planetary Chakra cards

(10 planets at 7 chakras)
---
Example of the 6th Chakra card below

(Larger card for the 6th Chakra)

Examples of following Planetary Chakra cards below;
Sun at the 1st
4th and 7th chakras
(smaller Planetary Chakra card)

Sun 1 / 1st Chakra - Red / Survival, Physical Needs
Vitality
To help increase your body's "vitality" deeply connect to Nature / Mother Earth, feel
secure and grounded by the support she gives you constantly. Take responsibility
for every aspect of your life and know that you have the ability to cope with any
situation life may toss your way.
ACTION:
Go for a bush-walk in a beautiful natural setting. Connect with Mother Earth
and stand with your bare feet touching the ground and visualize
your energy going deeply into the Earth. Breathe deeply during this
connection process. This will have the effect of grounding, balancing and
recharging you emotionally, spiritually and physically. Next, sit
in the sun. Feeling the sun's warmth on your body will
revitalize your whole system. (Vitamin D is important for
a healthy body and comes from the sun.)
---
Sun at the 4th
4th chakra
(smaller Planetary Chakra card)
Sun 4 / 4th Chakra – Green / Love, Relationships
Essence
Feel a great love for yourself and be grateful for all the love you now have in
your life.
The "essence" of who you are is love.
Forgive yourself for any harsh, critical judgments you may have made about
yourself or others. Fill your heart centre with love, compassion and
understanding.
ACTION:
Look in the mirror, focus completely and say:
"I love the compassion I see in you.
I love the light of forgiveness which now burns in you.
I honour and love your essence. I love you."
---
Sun at the 7th
7th chakra
(smaller Planetary Chakra card)
Sun 7 / 7th Chakra – Violet / Spirituality
Source
Uplift yourself to a higher level of awareness through consciously
connecting with your spirit, your Higher Self every day.
Remember, you are never alone.
ACTION:
Pray that you are now in loving attunement with your Higher Self.
Imagine yourself illuminated and suffused with pure white light.
The top of your head (the Crown Chakra) is now pulsating,
spinning and alive with divine energy.
You are one with the universe and ready to attract your highest good.
---
*ORDER YOUR ACSS SET NOW - click here
---
Back of the box (below)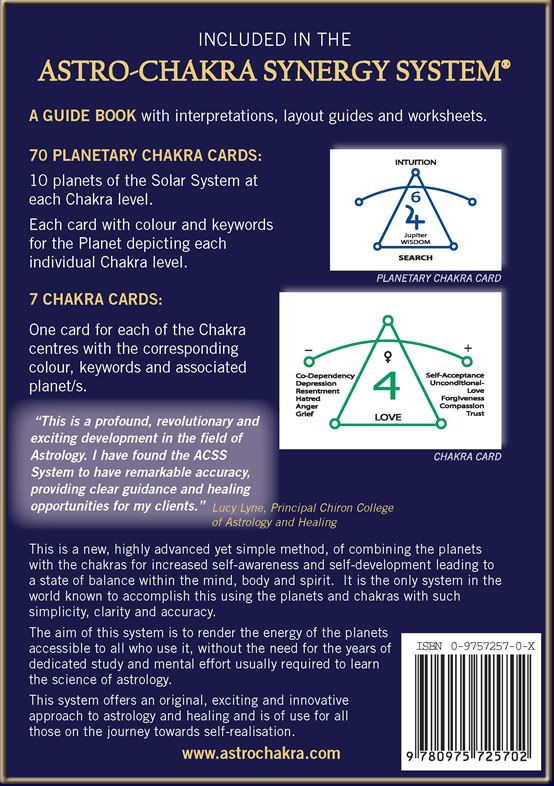 ---
*The 'Astro-Chakra Synergy System'®
is also now available for purchase
from this website.
Copyright© 2010 Brenda Kelly